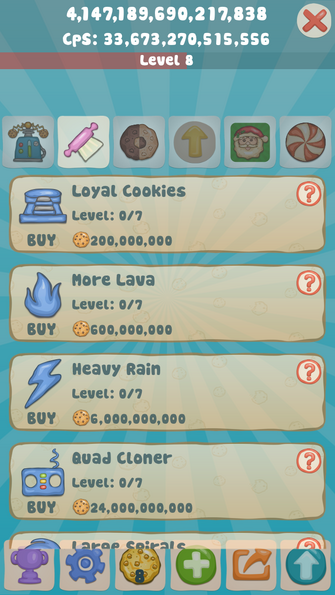 Each Building has 8-14 levels of upgrades for it.
Each upgrade doubles the amount that building produces up to a maximum of 16384x the original cookie production.
The cost of each upgrade level is 10 times that of the previous (it then becomes 20 times the previous starting at level 7 upgrades).
The most expensive upgrade is for the Magic Beans (???)
| Building | First Upgrade | Initial Cost | Number of Upgrades | Max multiplier |
| --- | --- | --- | --- | --- |
| Cookie Cutter | Large Cutters | 3,000 | 14 | x16384 |
| Small Oven | Higher Temperature | 6,000 | 14 | x16384 |
| Baker | Rolling Pins | 20,000 | 14 | x16384 |
| Dispenser | Reliable Parts | 100,000 | 14 | x16384 |
| Well | Bigger Buckets | 400,000 | 13 | x8192 |
| Tree | Watering Cans | 2,000,000 | 13 | x8192 |
| Train | Faster Trains | 7,000,000 | 13 | x8192 |
| Robot | Extra Arms | 35,000,000 | 13 | x8192 |
| Temple | Loyal Cookies | 200,000,000 | 12 | x4096 |
| Volcano | More Lava | 600,000,000 | 12 | x4096 |
| Mine | Deeper Mine Shaft | 600,000,000 | 12 | x4096 |
| Storm | Heavy Rain | 6,000,000,000 | 12 | x4096 |
| Cloner | Quad Cloner | 24,000,000,000 | 12 | x4096 |
| Vortex | Large Spirals | 120,000,000,000 | 11 | x2048 |
| Dark Matter | More Matter | 1,200,000,000,000 | 11 | x2048 |
| Time Warper | Lightspeed | 15,000,000,000,000 | 10 | x1024 |
| Nanotech | Nanoparticles | 250,000,000,000,000 | 10 | x1024 |
| Alien Lab | More Beakers | 6,000,000,000,000,000 | 9 | x512 |
| Star | Cookie Radiation | 320,000,000,000,000,000 | 9 | x512 |
| 4D Printer | Rapid Prototyping | 12,000,000,000,000,000,000 | 8 | x256 |
| Magic Beans | More Beans | 1,440,000,000,000,000,000,000 | 8 | x256 |